Courses for Curtin staff
At Curtin, it's important for staff to have knowledge and respect for Indigenous heritage and ways of working. As part of Curtin's Reconciliation Action Plan, the University has developed the Indigenous Cultural Capabilities Framework (ICCF), which takes a staged approach to promoting an understanding of Indigenous culture, knowledge and history.
---
Stage one: Cultural awareness training
Part one: Ngalang Katajininy (Our Knowledge / Our Learning)
In this training, Professor Simon Forrest will take staff on a journey that involves finding out what the Indigenous Cultural Capabilities Framework is at Curtin. Ngalang Katajininy (Our Knowledge/Our Learning) involves a number of interactive activities to introduce you to Aboriginal history, values and world view. It outlines an overview of Western Australian history and highlights local Perth history and Nyungar language.
You can register your attendance in iPerform within the Staff Portal. For more information, contact:
Jayde Conway
Phone: +61 8 9266 4340
Email: j.conway@curtin.edu.au
Part two: Ways of Working Cultural Awareness Program
Part three: Nyungar Language and Culture MOOC
---
Stage Two: ICCF On-Country Immersion Trips
This cultural development On Country Immersive trip is led by Curtin's Elder in Residence, Professor Simon Forrest. In this learning experience on Country you will visit many Aboriginal significant historic sites and hear stories from Indigenous Australians. Nyungar ways of knowing and doing are explored in practical ways to build on your competency in understanding and interacting with Aboriginal peoples and societies. There are four location based trips offered to staff: Pinjarra, Roelands, Swan Valley and Mogumber/New Norcia.
You can register your attendance in iPerform within the Staff Portal. For more information, contact:
Jayde Conway
Phone: +61 8 9266 4340
Email: j.conway@curtin.edu.au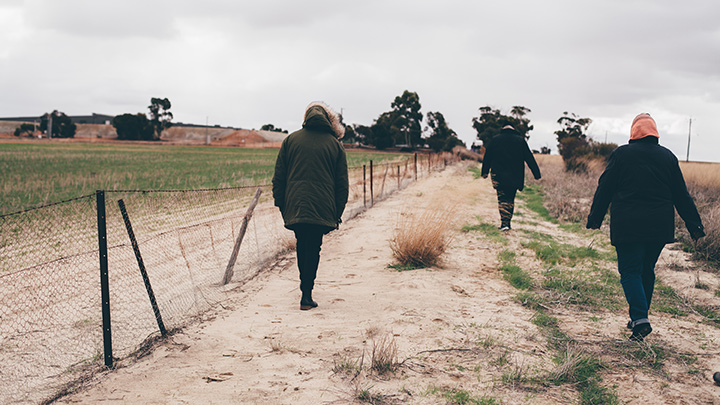 Staff members walking next to the rabbit-proof fence