News and events
Welcome to the Centre's News and Events. We host a range of annual events including the Rob Riley Memorial Lecture, Sorry Day, NAIDOC, Graduation Ceremonies and more.
Latest news
Curtin Open Day Sunday 26 March 2023 10am-3pm


International Women's Day 2023
CAS staff Renna Gayde and Narelle Guest attended the event along with the Vice Chancellor and Trish Hill-Wall.

CAS and MCASI Outdoor Cinema Event at Curtin Bentley campus showcased the screening of Satellite Boy. We had a Welcome to Country delivered by Nick Abraham and an Aboriginal Dance Group perform.


NAIDOC 2-9 July 2023 Theme For Our Elders


2022 Events
NAIDOC Week July 4th Flag Raising Ceremony attracts one of the largest audiences out of WA's top universities.
Rob Riley Memorial Lecture now available to stream online.
Presented by Dr Tracy Westerman AM.
Tracy, a proud Nyamal woman from the Pilbara region of WA and a pioneer in Aboriginal mental health, suicide prevention and cultural competency, presented her PhD, "Why the Aboriginal Mental Health, Incarceration, Child Removals & Suicide Prevention Gaps are not closing" at the event.
National Sorry Day May 26th 2022 crowds gathered in commemoration and remembrance of all those who have been impacted by the government policies of forcible removal that have resulted in the Stolen Generations.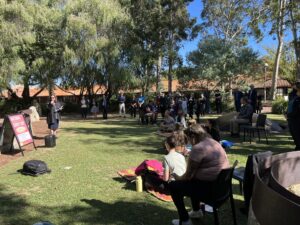 Carrolup Coolingah Wirn Artwork Exhibition is now available for viewing located at the John Curtin Gallery.
The artwork pieces highlight the trauma of The Stolen Generation.
 Gallery is free and open Monday to Friday 11am – 5pm and Sundays 12pm – 4pm (see map).
More News